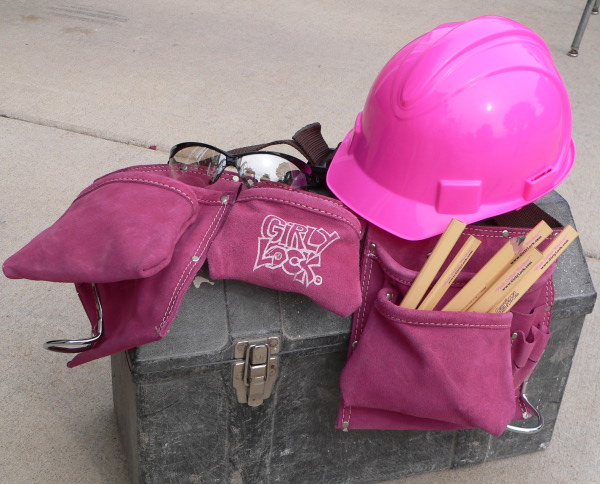 Who Will Be The First To Represent Women In The Tool Department?
Until now there has been little interest in meeting the needs of the more than one million women in the construction industry. More specifically women have had little choice but to use awkwardly fitting construction gear such as tool belts, work boots, and work clothes that were designed to fit men. GirlyLock LLC is stepping up to the plate to not only fill the needs of women in this industry but to make retailers and construction companies aware that this need exists.
Milwaukee, WI (PRWEB) April 2, 2009 -- Announcing the launch of
GirlyLock.com
. A company whose mission is to provide professional grade construction gear with the fit and function designed specifically for women working in the trade. Their top selling products are construction quality pink tool belts and pink hard hats.
Michelle Swamp started GirlyLock out of a basic personal need to find products that were durable yet fit a woman's shape properly and allowed for a little feminine flair. She says, "Just because I work in a traditionally male field, doesn't mean I should have to look like a man."
Michelle, who is also co-owner of CBS Construction, has been working in the trade for 15 years. During that time she has struggled with awkward fitting man sized tool belts, men's work boots, and men's work clothes as women's versions of sturdy work gear was simply nowhere to be found.
With the rise in popularity of home make-over and do-it-yourself TV shows, the public is becoming more aware of women in construction and women DIYers. In the past few years gimmicky pink toolbelts and pink handled tools have started popping up. The challenge is, these are not professional grade products designed to last through day to day use on the job.
That's when Michelle decided she was going to represent the "Pink Collar Worker" (a phrase she has coined for all the females out there working in construction and other traditional blue collar trades). Michelle states that According to the National Association of Women in Construction (NAWIC), out of 10.1 million total people in construction, one million are women. "And," Michelle says, "Up until now, no one has taken women's needs for sturdy work gear seriously." And so GirlyLock, LLC was born.
Michelle took her own on-the-job experience to design and manufacture her own pink tool belts that are sturdy enough to last for years on the job AND fit women of all sizes comfortably. They also come in blue, black, and tan because we are here to represent all women not just those who like pink! GirlyLock hard hats, which meet OSHA regulations and ANSI standards, come in neon pink, aqua blue, navy blue, and jet black. There is also a GirlyLock line of work clothing and accessories. Michelle is adding to the GirlyLock line regularly and eventually plans to encompass women's needs from every angle.
Michelle still has her work cut out for her in convincing the male dominated field that there is a need for women's work gear. But, GirlyLock has already seen some success. Home Depot carried the GirlyLock line of tool belts as a Christmas seasonal item and GirlyLock has sold thousands of products online all over the world . She is currently pursuing several large home and hardware stores to pick up the GirlyLock line. She encourages all women in the trade and DIYers to contact these types of stores and let them know you want gear for women (preferably GirlyLock brand!).
Until GirlyLock products become available in your local store they can be purchased at the GirlyLock.com online store or call 1-877-447-5956
Contact:
Michelle Swamp, president
GirlyLock LLC
877-447-5956
GirlyLock.com
http://www.prweb.com/releases/girlylockconstructiongear/pinktoolbeltpinkhardhat/prweb2280444.htm